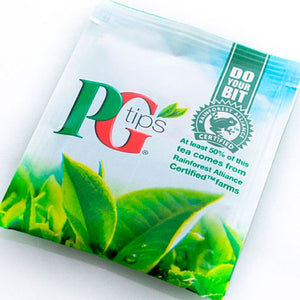 PG Tips Tea Bag Envelope String & Tag
£0.10

£0.10
Tax included.
Shipping
calculated at checkout.
---
---
PG Tips Tea Bag Envelope
Tagged 1 Cup tea bags packed in individual envelopes. 
It is just the right colour, taste and full of body. Boil water to minimum of 95c Brew for 3-4 minutes. 
Ideal for use in cafes, meetings, work place, hotels, restaurants, festivals, camping, holidays, travel, camping, caravan trips, hotels, bed & breakfasts and self catering accommodation. 
Did you know?
Not only does PG tips taste great but it is healthy and natural too
Drinking up to 6 cups of PG tips tea can contribute towards your daily water requirement on 1.5-3 litres per day.
An average cup of PG tips is virtually fat free.
Drunk black, one cup is calorie free, and even with semi-skimmed milk typically contains just 14 calories.
To make things even better, the same cup contains only half the caffeine of an average cup of brewed coffee.
PG tips tea is a natural source of flavonoid antioxidants
These are also found in fruit and vegetables

A good cuppa is at the heart of everyday British sociability. There's something about the taste of a good cup of tea that brings Britons together with their friends and family like nothing else.
PG tips was launched in the UK in the 1930's as a loose leaf tea.
It was originally called Pre-Gest-Tee, as it was thought that tea aided digestion.
This was soon abbreviated to PG by grocers and van salesmen.
The company adopted this as the official name and added tips and then in the 60's The PG tips tea bag was introduced.
A stunned nation grappled with the new-fangled way of making their favourite brew, but caught on quickly! 
Contains: None of the 14 Food Allergens
#greatmindsdrinkalike
---
We Also Recommend