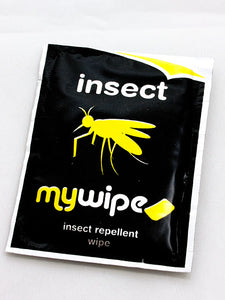 Insect Repellent Wipe sachet
£0.49

£0.49
Tax included.
Shipping
calculated at checkout.
---
---
Individually wipe sachet
Ideal for your hand luggage, picnic pack, walking kit, festival packs
These individually wrapped wipes are specially formulated to repel mosquitoes, midges, ticks, gnats, sand flies and other flying and other biting insects.
When applied to all areas of exposed skin they can give lasting protection of up to 4-6 hours.
The wipes are suitable for children over 6 months of age, and should be applied by an adult.
Insect Repellent wipe have been carefully impregnated with Citrepel 75®
Citrepel 75 which is a NATURAL, highly effective insect repellent produced from eucalyptus oils.
Eucalyptus oils are high in p-menthane-3,8-diol (PMD) which has been shown to be effective against a broad spectrum of insects.
What makes Citrepel 75® different and so successful is that it has been developed by a process which dramatically increases the PMD level to consistently high levels, thereby giving hugely increased protection.
For decades, synthetic insect repellents have always out-performed natural products.
In field tests natural Citrepel 75® outperformed a range of other repellent materials, including DEET, thus changing the natural order.
---
We Also Recommend